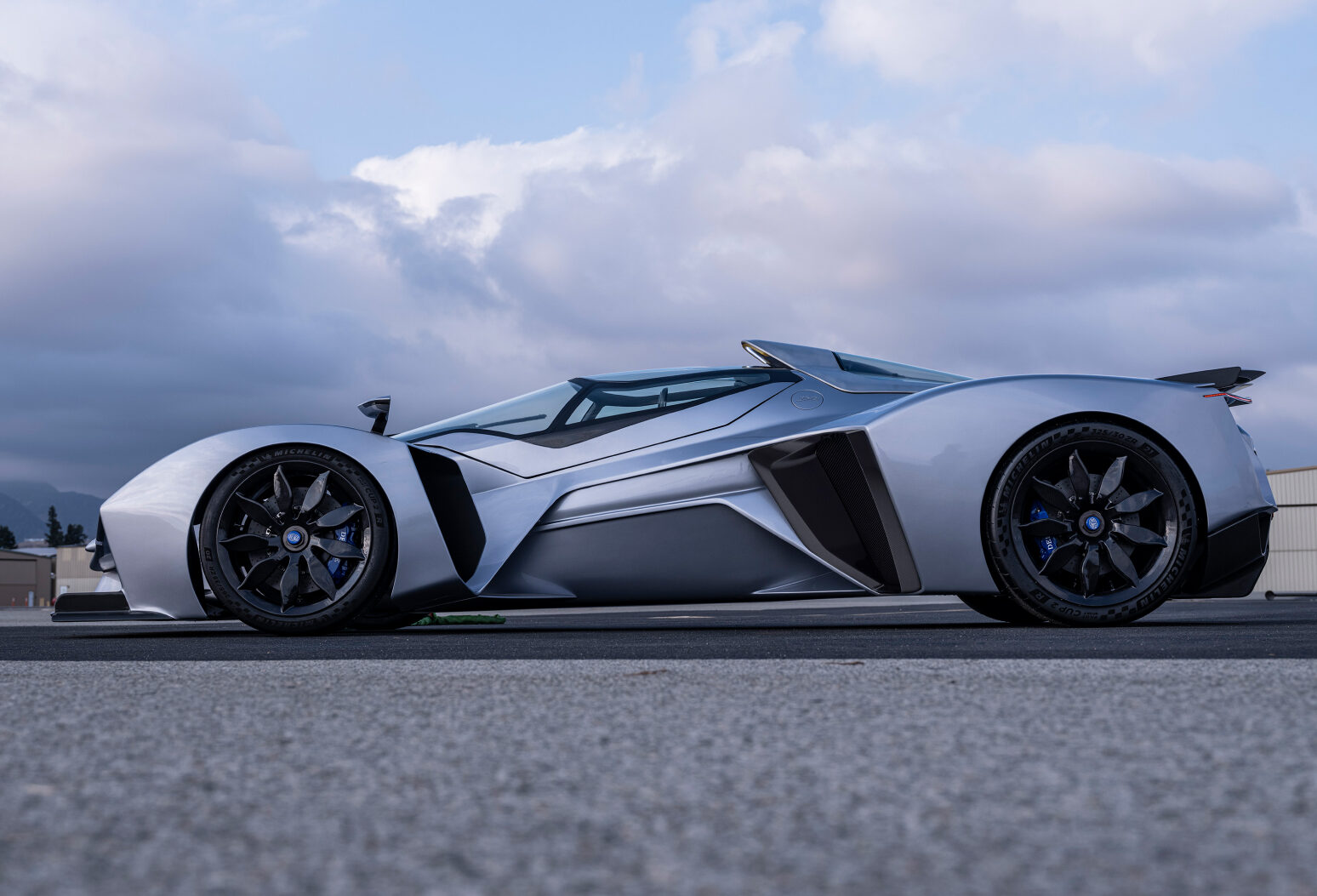 The heir
Delage 15 S 8 – 1927
Grand Prix
Champion of the world
Delage D12 – 2022
Candidate to become
the fastest road-legal car in the world
« The road-legal F1 »

A unique positioning, conceived for extreme performance and pleasure only.
A clean yet aggressive and futuristic design, inspired by formula 1 and fighter-jets, wide and ultra-low.
1,100 HP in total

Hybrid (Thermic et electric).
990 thermic HP
A 7.6L home-made V12.
110 electric HP
An electric engine of 110 HP.
(20 HP in the club version, 90 KG lighter)
Contractive suspensions
First road-legal car equipped with the contractive suspension that revolutionized formula 1.
Brake-cooling carbon fiber wheels
The first carbon fiber wheels that include a brake-cooling effect.
The architecture of a formula 1 car
THE SAME ARCHITECTURE AND TECHNICAL CHOICES AS A FORMULA 1 CAR (MONOCOQUE AND FRONTAL CRASHBOX IN CARBON FIBER)
THE CLOSEST FEELING EVER TO DRIVING A FORMULA 1 CAR
SET UP OF THE CAR CONDUCTED BY F1 WORLD CHAMPION JACQUES VILLENEUVE
G Force
ALMOST TWICE MORE DOWNFORCE THAN THE BEST SUPERCARS, MORE G FORCE THAN YOU EVER EXPERIENCED IN A ROAD-LEGAL CAR.
4 driving SETTINGS
City (100% electric),
Road (Hybrid),
Track (Hybrid with maximum power),
MY MIX (432 POSSIBLE CONFIGURATIONS).
360 ​​km / h.

A power TO WEIGHT ratio close to 1, accelerations expected in the world tops.
tandem

A two-seater but in a unique configuration
fighter-jetS type, to ensure a central position to the driver AND A PERFECTLY CENTERED WEIGHT BALANCE.
Customization

Extreme performance does not sacrifice luxury and a full personalization.
The driving position is customized to its 4 elements.
The seat
(molded on the driver's body),
The steering wheel
(fighter-jet joysticks type molded on the driver's hands),
The leg support,
The pedals.
Materials and colors

COUNTLESS OPTIONS FOR INTERIOR AND EXTERIOR CUSTOMIZATION.
THE "DELAGE DRIVING EXPERIENCE" (OPTIONAL)
"TRY TO EXIT THIS CORNER SOONER AND SHIFT InTO 8TH GEAR" SAYS JACQUES VILLENEUVE to you (be coached by JACQUES VILLENEUVE ON HOW THE D12 CAN BE DRIVEN).
Collector
THERe WILL BE ONLY 30 LUCKY D12 OWNERS IN THE WORLD.
2 VERSIONS AVAILABLE TO THE CLIENTS : "GT" (FOR PREDOMINANT ROAD USE) OR "CLUB" (FOR PREDOMINANT TRACK USE).
PRICE OF CAR N.1/30 : On auction
PRICE OF CARS N.2/30 TO N.30/30 : € 2M + TAX.
x